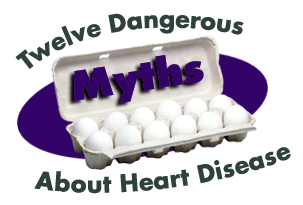 As a practicing cardiologist, and as the medical Director of HeartPoint, I get a lot of questions about heart disease. I am consistently surprised how few "facts" have engrained themselves deeply into "common knowledge". These myths are not only wrong, but are often dangerously misleading to those who choose to believe them. Here are twelve of the most dangerous MYTHS I run into, and discussions about each one. You might have heard a few of these too.
To see what each myth is, pass your mouse over the egg
... the subject will appear. Click on it to learn more.